呼吸疾病国家重点实验室
State Key Laboratory Of Respiratory Disease
Brief Introduction
The State Key Laboratory of Respiratory Disease (SKLRD) at Guangzhou Medical University (GMU) was jointly established by the Guangzhou Institute of Biomedicine and Health, the Chinese Academy of Sciences (GIBH) in 2007. It is so far the first and only state key laboratory that specializes in the field of respiratory health in China. SKLRD was founded by Academician Nanshan Zhong and now is led by the director Prof Pixin Ran. The Academic Committee director is Prof Mengfeng Li.

As a clinic-oriented research lab, SKLRD always advocates Academician Zhong's Translational Medicine research concept of "BedSide to Bench, and vise verse", aims at the international cuttingedge concepts & technologies and the bottlenecks that urgently need to be solved for respiratory diseases' diagnosis & treatment, focuses on the investigation and development of national-condition-suited clinical standards, consensus and guidelines for diagnosis & treatment and drugs, technology, instruments, which is "efficient, simple, inexpensive and safe", to serve the people.


By far, SKLRD owned one Guangdong Respiratory Medicine Engineering Laboratory, three key laboratories of Guangdong Province (of Respiratory Diseases, of Allergy & Clinical Immunology and of Vascular Diseases), one National Clinical Research Center of Respiratory Diseases and one State Clinical Drug Trial Agency. The development of SKLRD had prompted the development of other disciplines and subjects that related to the respiratory disease. SKLRD has now built up five State Key Specialized Clinics including the department of respiratory diseases, critical care medicine, allergy, oncology and thoracic surgery, and one National Key Construction Discipline --Chinese Integrative Medicine.
In 2011, SKLRD passed the first evaluation of the MOST, then, SKLRD had passed the second MOST's 5-year evaluations and was named "Excellent State Key Laboratory" in 2017. At present, the laboratory has been a country leading, oversea famous respiration center that concentrating on basic respiratory diseases research, clinical diagnosis, prevention & treatment, as well as the personnel training and talents education.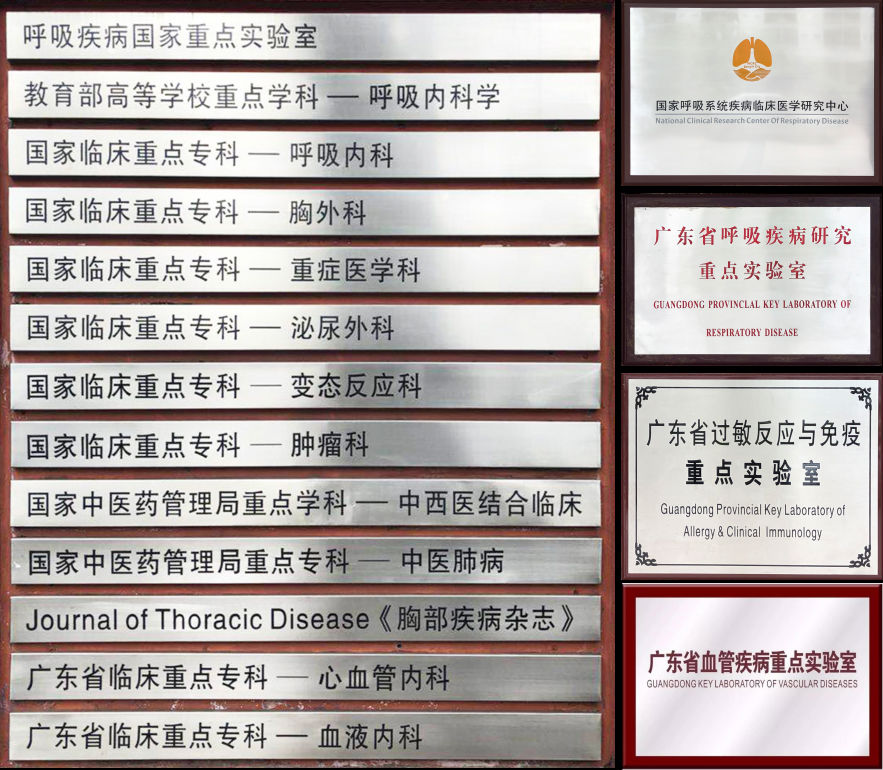 SKLRD History
1979 Guangzhou Institute of Respiratory Diseases (GIRD) was founded.

1994 Guangdong Provincial Key Laboratory of Respiratory Diseases was established.
2003 Respiratory Medicine was recognized as the National Key Discipline
2005 Approved by the Guangdong Provincial Department of Science and Technology, the Joint Laboratory of Respiratory Disease between GIRD and GIBH was founded.
2006 The Guangzhou Joint Laboratory of Respiratory Disease sent an application to MOST of China for setting up SKLRD.
2007 MOST approved the application to set up SKLRD.
2010 SKLRD passed the acceptance check of MOST, as the first and only state key laboratory in the field of respiratory health in China.
2011 SKLRD passed the first 5-year evaluation of MOST.
2012 SKLRD was granted as the Guangdong Provincial Engineering Laboratory of Respiratory Medicine.
2013 SKLRD was approved as one of the first 13 national clinical medical research centres in China. Guangdong Provincial Key Laboratoryof Allergy & Clinical Immunology approved.
2017 SKLRD passed MOST's second 5-year evaluation as an "Excellent State Key Laboratory". The foundation of Guangzhou Respiration Center was laid.
2018 SKLRD adjusted the original 4 research focuses to 7. Guangdong Key Laboratory of Vascular Diseases approved.
2019 The construction of Guangdong-Hong Kong-Macao Greater Bay Area Respiratory Disease Research Center was approved
Research Focusses
SKLRD focus on the major, common and frequent respiratory diseases that seriously affect the health of the population to conduct research.Gradually formed four advantages of the research direction,including emerging respiratory infectious diseases and acute lung injury,chronic obstructive pulmonary disease (COPD),bronchial asthma and chronic cough and lung cancer.In order to further enhance the comprehensive strength of SKLRD, prompted the development of the study of respiratory disease and other relating subjects,the laboratory expanded into seven research directions based on the original four research directions in 2018 .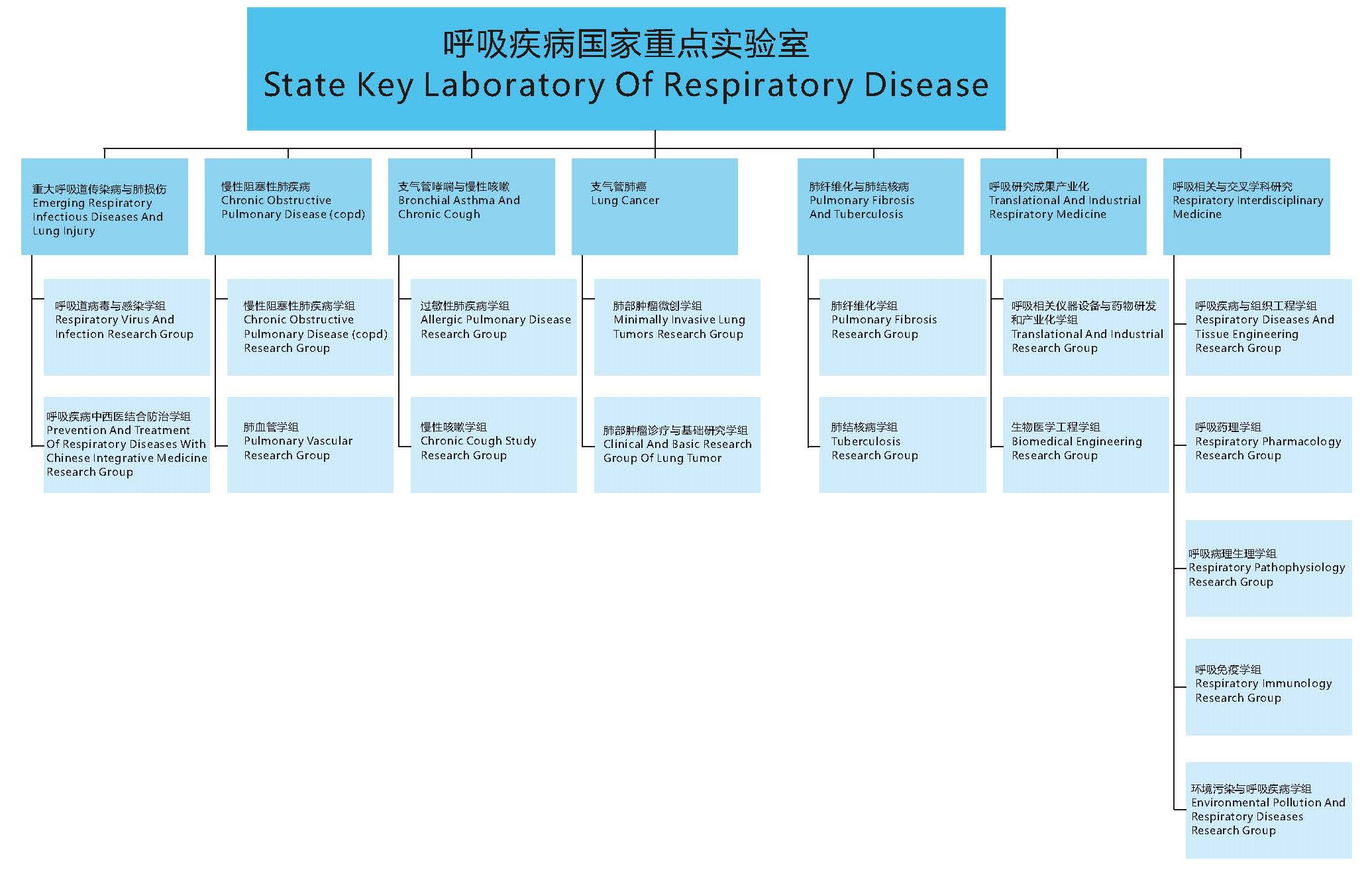 Organizational Structure
Future
With the strong support of the Guangdong Provincial and Guangzhou Municipal Governments, the foundation was laid and construction began on the Guangzhou Respiratory Center in 2017 at Datansha, Liwan District of Guangzhou, which covers an area of 1 million square metres and will cost more than RMB 3 billion in investment. Based on the Guangzhou Respiratory Center, SKLRD aims to build five world-class functional centres (bases), including a Respiratory Disease Research & Innovation Center, Respiratory Translational Medicine & Industry Research Center, Respiratory Critical Care Center, Complicated Respiratory Diseases Diagnosis and Treatment Center, and a Talent Cultivation Base in Respiratory Medicine.
In terms of the "13th Five-Year" Plan, SKLRD will continue to ensure and consolidate its leading edge and achieve great advances in respiratory medicine. SKLRD has been striving to be a worldclass comprehensive respiratory disease prevention, treatment and research centre that integrates clinical and basic research, education and talent cultivation, translation and industrialization, leading the respiratory medicine of China and the world.