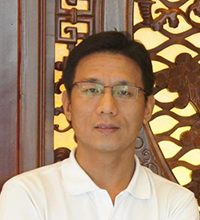 胡文辉
研究工作:
1、呼吸道传染病及疫苗研究
2、生物药物的研发
科研项目:
立足于尚无有效药物的重大疾病,开展致病机制和创新药物的研究,确立原创(First-in-class)候选新药。截至目前,胡教授已获得授权专利30多项,主持国家科技部、国家自然科学基金委、广东省科技厅的新药重大专项,企业横向经费等各类新药研发基金2000多万元。
代表性学术论文:
1、Xin Zhao, Runfeng Li, Yang Zhou, Mengjie Xiao, Chunlong Ma, Zhongjin Yang, Shaogao Zeng, Qiuling Du, Chunguang Yang, Haiming Jiang, Yanmei Hu, Ping Sun, Jianghong Dong, Wei Cui, Kefeng Wang, Jun Wang, Yaoquan Tu, Zifeng Yang, Wenhui Hu *. Discovery of Highly Potent Pinanamine-Based Inhibitors Against Amantadine- and Oseltamivir-resistant Influenza A Viruses. Journal of Medicinal Chemistry. 2018, 61, 5187−5198.
2.、Hui Xie, Shaogao Zeng, Yuwen He, Guicheng Zhang, Pengjiu Yu, Guifa Zhong, Hongjiang Xu, Ling Yang, Shanchun Wang, Xin Zhao*, Wenhui Hu*. Rapid generation of a novel DPP-4 inhibitor with long-acting properties: SAR study and PK/PD evaluation. European Journal of Medicinal Chemistry, 2017, 141, 519-529.
3.、Yunlong Zhao, Qingxin Zhao, LS Wang, Wen Hui Hu*, Jun Ling Zhao*. Organocatalytic Friedel-Crafts Alkylation /Lactonization Reaction of Naphthols with 3-Trifluoroethylidene Oxindoles: The Asymmetric Synthesis of Dihydrocoumarins. Angewandte Chemie International Edition. 2017, 56, 338 –342.
4、Runfeng Li, Chunguang Yang, Qiuling Du, Xin Zhao, Haiming Jiang, Wenhui Hu*, Zifeng Yang*. Pinanamine Is a Promising Lead Compound against Influenza A Virus: Evidence from in Vitro and in Vivo Efficacy Compared to Amantadine. Biological & pharmaceutical bulletin. 2017, 40, 954–959.
5、Wei Zhou, Guifa Zhong, Sihai Fu, Hui Xie, Tianyan Chi, Luyi Li, Xiurong Rao,Shaogao Zeng, Dengfeng Xu, Hao Wang, Guoqing Sheng, Xing Ji, Xiaorong Liu, Xuefei Ji, Donghai Wu, Libo Zou, Micky Tortorella, Kejian Zhang, and Wenhui Hu*. Microglia-based phenotypic screening identifies a novel inhibitor of neuroinflammation effective in Alzheimer's Disease Models. ACS Chemical Neuroscience. 2016, Nov 16;7 (11):1499-1507.
6、Jianghong Dong, Shengwei Chen, Runfeng Li, Wei Cui, Haiming Jiang, Yixia Ling, Zifeng Yang, Wenhui Hu*. Imidazole-based pinanamine derivatives: Discovery of dual inhibitors of the wild-type and drug-resistant mutant of the influenza A virus. European Journal of Medicinal Chemistry. 2016, 108, 605-615.
7、Shengwei Chen, Qinxin Lou, Yuyang Ding, Shasha Zhang, Wenhui Hu* and Junling Zhao* Organocatalytic enantioselective Michael reaction of malononitrile to b,b-disubstituted nitroalkenes. Advanced Synthesis & Catalysis. 2015, 357, 2437-2441.
8、Shengwei Chen, Guicheng Zhang, Qxinxin Lou, Wei Cui, Shasha Zhang, Wenhui Hu* and Junling Zhao*. Organocatalytic enantioselective aza-Michael reaction of benzotriazole to β,β-disubstituted nitroalkenes. ChemCatChem. 2015, 7, 1935-1938.
9.、Yuyang Ding, Liufeng Mao, Dengfeng Xu, Hui Xie, Ling Yang, Hongjiang Xu, Wenjun Geng, Yong Gao, Chunguang Xia, Xiquan Zhang, Qingyi Meng, Donghai Wu, Junling Zhao * and Wenhui Hu*. C-aryl glucoside SGLT2 inhibitors containing a biphenyl motif as potential anti-diabetic agents. Bioorganic & Medinal Chemistry letter. 2015, 25, 2744-2748. 10. Bo Bi, Qin-Xin Lou, Yu-Yang Ding, Sheng-Wei Chen, Sha-Sha Zhang, Wen-Hui Hu* and Jun-Ling Zhao* Chiral phosphoric acid-catalyzed highly enantioselective Friedel-Crafts alkylation reaction of C3-substituted indoles to unsaturated ketimino esters. Organic Letters, 2015, 17, 540−543.
获奖及个人荣誉:
1、2011年获得广东省优秀共产党员,
2、2014年获得广东省优秀专利奖。
联系方式:
Email: huwenhui@gzhmu.edu.cn